As I write this, speculation is rampant about total lock-downs for Victoria and NSW. Now is the time to communicate your organisation's pandemic plan to clients, community and other stakeholders, if you haven't already.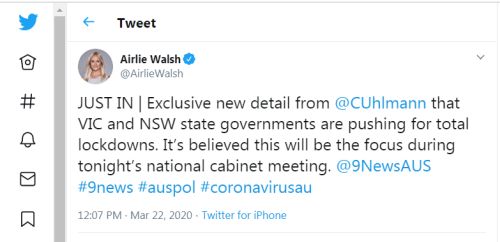 During this crisis your messages should be:
• Brief – people are consuming so much information they appreciate you getting straight to the point. This will make your messages stand out.
• Clear – don't use jargon or lengthy, possibly ambiguous explanations.
• Focused – focus on what your audience(s) need to know. What are their questions at this time?
• Caring – sometimes brief and direct messages lose empathy. As a trusted part of your stakeholders' lives, remember to maintain the care they have come to expect from you.
• Frequent – explain how regularly you will be providing updates and do so.
A part of caring is making life as easy as possible for those in stress. Direct stakeholders to a central point (usually your website or for employees, the intranet) where they can find your information at any time.
Your pandemic plan covers what will be done, when and how. You'll also need to be clear on what you need clients, community and other stakeholders to do as everyone is affected by the changing rules of Coronavirus and/or the virus itself.
We've now helped several organisations respond to Coronavirus changes. Please get in touch if there's anything we can do to support you.
That might be a quick question or you're looking for another person's perspective. We can also prepare your communications plan or assist with some aspect of it. This is the time when we all pull together. And remember, there's no such thing as a stupid question.
I wish your organisation and all the people it's made up of, the very best as we face this unchartered experience.
Birgit Schonafinger, Director