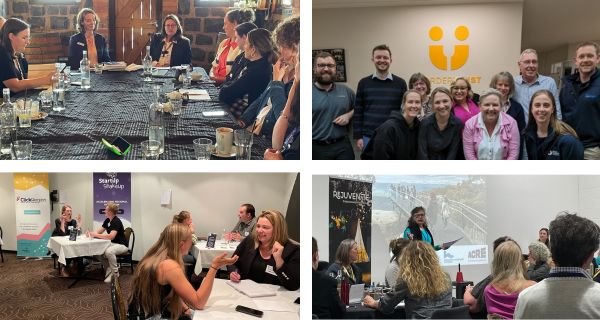 I say collaboration but the better-known phrase is team work makes the dream work. If you are a sole operator or the only communications person in an organisation, you may not have a team. Collaborating with others (within and outside your company) is a great way to build a team of your own.
These photos show four recent events where I either relied on collaboration with others or I supported others who were making things happen.
In my business, I collaborate with other consultants on big projects and offer my clients referrals to supporting services they may need such as human resources, workplace mediation, web development, photography and content creators.
For all of us with or without teams, collaboration can help make the dream work as it's a powerful tool for growth, learning, networking and sustainability.
Here's some of the reasons why you might like to consider more collaboration.
1. Opportunities for learning, innovation and mentoring
When individuals from different backgrounds and expertise come together to pursue opportunities, they bring a diverse set of knowledge and skills to the table. This cross-pollination of ideas leads to innovative problem-solving and creative thinking.
What I particularly enjoy is that I always learn something and find new information about opportunities or connections that might benefit my clients.
When you collaborate with others, some of them might be ideal mentors. For sole operators, mentoring can be very valuable as a way of checking in when you have queries or are in need of support.
2. Expanding your networks and opportunities
Partnering with others means you meet new people and work with organisations you might not have worked with before. Building a network of partners and allies can be a strategic advantage whether you are a manager, employee or run your own business.
3. Cost efficiency and resource optimization
Shared investments can result in cost savings and maximising resources. If you team up with other similar organisations to provide training, for example, this can lead to savings and new connections for you or your staff.
Cross-promotion is a side-product of collaboration. While I have mentioned those with whom I have recently collaborated on socials and in my client e-newsletter, they have also publicised my involvement.
If you want to learn, be inspired by others, build your network and get some added publicity, I'd recommend looking for opportunities to work with others.